The American Communications Network, commonly known as ACN Inc. is one of the largest, trusted, and popular multi-level marketing company. It started as a small company in 1993, and over the years, it has successfully gained the trust and confidence of its clients.
Today, ACN operates in 23 countries in various parts of the world including countries in North America, Europe, Asia, and the Pacific. The exceptional products and services of ACN include a wireless connection, high-speed internet, satellite TV, local and long-distance telephone service, energy, and a whole lot more.
ACN Inc. operates using a multi-level marketing approach or popularly known as network marketing. This strategy is nothing new. A lot of businesses today are using this approach. It starts with a single independent sales agent who sells the products and services of the company and at the same time recruit additional agents to grow his team.
The people you bring into your team are responsible for bringing in more people. The goal is to make the team grow bigger and bigger as time passes by. The more people you bring in the team, the higher the commissions will be. As you know, in the multi-level marketing business, people are paid on a commission basis.
Do you need to spend cash to join ACN?
One of the cons of joining ACN Inc. is that it requires a start-up fee. On the positive note, those who want to join ACN will have two start-up options. If you want to concentrate on marketing the products and services of ACN, you can join as a customer representative and pay a flat fee of $99. On the other hand, if you want to become a team trainer, you need to pay a flat fee of $499. It is a pretty huge amount, but you will have the opportunity to earn a higher income.
Compensation Plan

How can you make money in the ACN Avis business? You can earn money through the percentage of monthly billing amount. The commission ranges from 2% to 8% depending on the total billing of your clients. You can also earn commissions from the number of people you recruit. If the people you bring in the company were able to build a roster of six to eight customers in a month's time, you can earn as high as $275.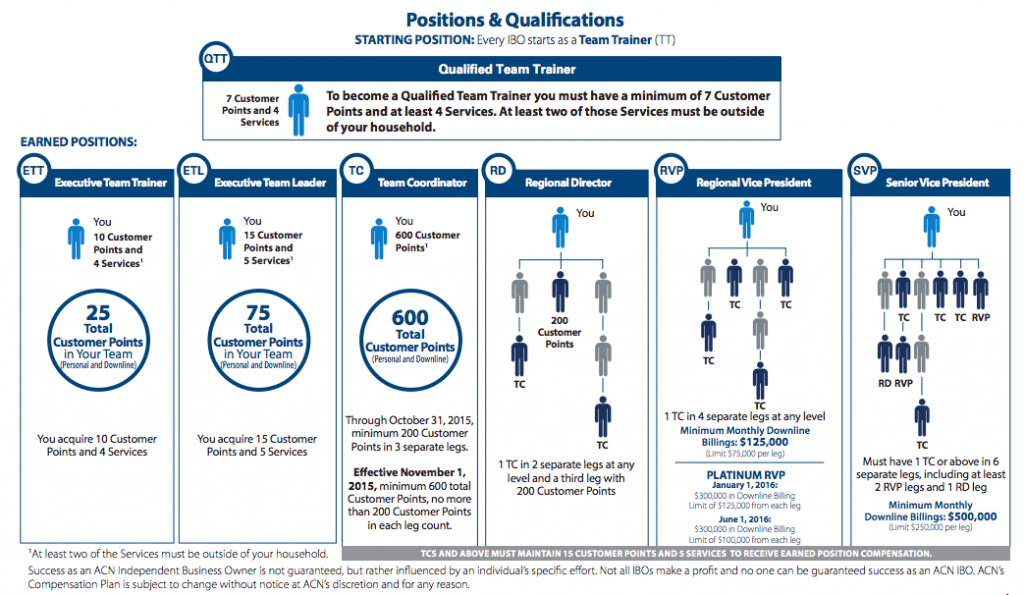 As you can see, the American Communications Network provides a multitude of income stream. Training and support are provided to customer representative/independent business owner. All you have to do is to apply everything you learn from the training and follow the footsteps of your mentor or upline. Starting in the business can be quite tough but as you go through it, you will be able to master the secrets to building your team and growing your business.Check out more info here